20th January11, Embleton Bay, 05:30 am
A very early start this morning as the full moon was bright and intriguing. I wanted to see what the beach looked like by the light of the moon so I left Daisy asleep and headed off.
Unusually for me I was armed with an SLR and tripod as these were tricky photographic conditions. I used a 30 second exposure for these shots which means that the movement of the stars and Venus through the sky is apparent by a slight elongation of their shape. It's also interesting to see the true colours of the different stars.
The long exposure generates a lot of 'noise' which for me slightly spoils the look of the photographs. Once back home I found a function to reduce noise during long exposures but you have to use that when you take the picture, not once you're home. It's not a function that I've ever needed during a wedding(!) and this trip was a spontaneous idea this morning so today's lessons are: 1. Know your equipment, 2. plan in advance so that you know the best set up to use for the shot you want, 3. practice makes perfect.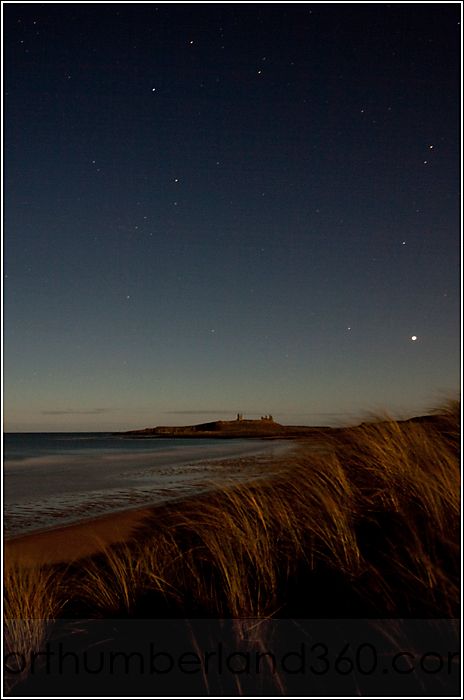 Northumberland Photo Training
- Teaching the Art of Natural Photography
andy craig photography
- Family Portraits and Wedding Photography
one-eyed-hound.com
- Dog Photography ...it's a dog's life